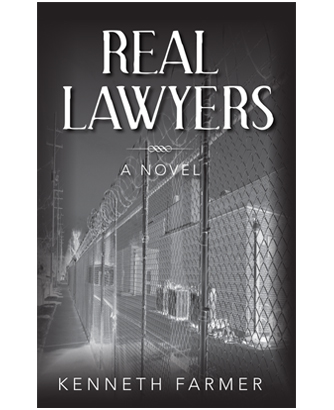 As a public defender, a young lawyer fresh out of school learns how the legal system really works.
Television makes it look so easy. A smartly dressed lawyer comes up with a clever ploy or finds a key witness at the eleventh hour, snatching victory so that justice prevails. In reality, as Farmer's novel illustrates in occasionally harrowing fashion, the American legal system is a hodgepodge of overworked public defenders, self-righteous judges and endless paperwork in which justice is often a happy accident. Law school lessons still dancing in his head, Paul Fields becomes a public defender in Louisville, Kentucky. He quickly gets disabused of his ivory-tower vision of the law as he descends into Kentucky's Byzantine legal system and discovers how things actually work. Along the way, he picks up a girlfriend, Megan, who winds up helping him investigate a dandified judge nicknamed Lil' O and a crooked cop, who are running an illegal scheme from Acme Supply, a dirty company of which the judge is president. Meanwhile, in court, he has to contend with Heath, a smug prosecutor who cares only about advancing his political career.
Farmer's novel is an eye-opening, sometimes-uncomfortable trip through one state's legal system that will make doubters out of anyone who naïvely thinks justice always triumphs. Farmer, a former public defender and prosecutor, clearly knows his way around the law, and the book rings with authenticity. The story moves along briskly, occasionally becoming too technical as Farmer lays on the legalese. He keeps the Lil'O case percolating on the back burner even as Fields becomes involved with other matters. Until he learns that "things are what they are" and that he can't change them, Fields flounders at his job.
What's initially fascinating but ultimately disturbing is how rigged the American legal system is against the poor and downtrodden and how justice for them depends solely on their luck in getting a public defender who cares enough. Sadly, after reading this, one suspects that's rarely the case. –Kirkus Reviews
---
The title of Kenneth Farmer's debut novel, Real Lawyers, refers to a timeworn jailhouse insult: that public defenders, unlike their private bar counterparts, are not "real lawyers." While anyone who has practiced criminal law knows the absurdity of this myth, it persists from generation to generation in jails across America.
Farmer recently retired from the Dane County District Attorney's Office. (The reviewer and the author worked together there from 2007 to 2011.) Before becoming a prosecutor, Farmer worked as a public defender in Louisville, Ky. Real Lawyers draws on that experience. Set in Louisville in 1985 and 1986, it chronicles a year in the life of Paul Fields, a newly minted lawyer from Minnesota who takes a job as a public defender in Louisville.
Readers of Real Lawyers should get an ethics CLE credit, as the book covers a wide range of ethics issues. Substance abuse, attorney burnout, what must be disclosed in discovery, an elderly judge suffering from episodes of dementia, and a "hallway lawyer" who earns a living by quickly settling all his cases with unfavorable plea deals are just some of the dilemmas presented.
Two ethics issues deserve special mention. The first is peremptory jury strikes based on race. The seminal case on race-motivated jury strikes, Batson v. Kentucky, 476 U.S. 79 (1986), originated in the Louisville public defender's office. The U.S. Supreme Court decided Batson in April 1986, roughly midway through the one-year time frame of the novel. Although the Batson case is mentioned by name just once in the novel, the question of racial bias in jury selection comes up on multiple occasions. (In fact, Farmer represented James Batson as a Louisville public defender, but not on the case that brought Batson to the U.S. Supreme Court.)
The second ethics issue involves a question that anyone who has practiced criminal defense will have been asked countless times. In the novel, it comes from the father of the protagonist's girlfriend. "How do you defend these poor people, all of whom you know are guilty?"
This question may not be difficult for most attorneys, who already know about the Gideon right to appointed counsel for indigent defendants, the presumption of innocence, and the reasonable-doubt standard. But the novel suggests that the legal profession could do a better job of explaining these principles to the general public, if only to better respond to needling from future in-laws.
Real Lawyers is an enjoyable read that spins a fast-moving tale of corruption and deceit. Farmer's highly unflattering portrayal of the Louisville criminal court system is unlikely to win him any invitations to Kentucky Derby parties. But his conclusion in the novel's epilogue should be one all attorneys can agree on: "Success for a real lawyer, after all, has never been defined by wins and losses or Hollywood flamboyance, but rather by diligence, hard work, and integrity." –Tim Kiefer, Wisconsin Bar Magazine
Tim Kiefer, Harvard 1998, practices criminal defense and family law at Kiefer Law Office LLC, Madison. He also serves as an elected member of the Dane County Board. www.kieferlawoffice.com